SPRING IS HERE!
Fresh air, new beginnings, beautiful flowers and new ideas are abounding. As we know, when one season ends for us, another begins. My 2 youngest children, Kristine and Erik, are both completing their high school educations this spring, Erik with his Associates degree at Chemeketa Community College simultaneously. Timothy graduated 2 years ago.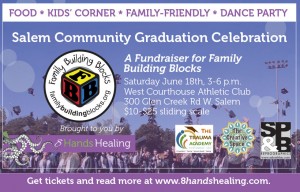 In celebration of this completion I will be hosting a community graduation celebration for:
All parents to celebrate THEIR efforts and support of their children previous, current and almost graduated. I invite you to come celebrate your own friends' and families' efforts; give support, as well as gather support, from other parents.
All graduates for 2016 to celebrate their accomplishments.
Your own graduation/completion of schooling. Many of us received a diploma but didn't "walk" for various reasons, maybe you don't even have kids of your own but you support others.
We will have a place for you to share in writing how many children you have supported through 12 + years of school and tips/pointers you would like to share that you found worked very well for you. These will be compiled after the celebration and emailed to those who would like it.
 If you would like to help with this event there are still jobs available, please email me.
This will be the first of many dance parties/fundraisers I will host (because I love to dance!)  I am looking for non-profits to support who nurture education for compassionate and loving parenting; educating children of all ages about appropriate boundaries, communication skills, and life skills.
My passions include:
Educating people of all ages, but especially teens, about why their bodies' hurt, self care they can do for themselves, how to take care of this body, mind and spirit (which is really all one), and how to deal with stress so they can focus in school. Many people are distracted because they need self-care tools to help themselves. So many people are raised by parents that are not in a health care field so they just don't have this kind of information.
Working with moms and babies after birth, especially if there was birthing trauma.
Educating other body workers to support their skills in working with different populations of people, including moms/babies, young athletes, injury recovery.