I'm doing a 5 month challenge!
September 2018 I was introduced to some supplements/activators when I went to the east coast for a class and to visit friends. I came back very excited to challenge the NRF 1 and NRF 2 activators to see what it could do for me first hand.
These are through a wellness and personal care company that believes their products are only as good as the science they stand on.  They have done extensive amounts of research on their products and it still sounded a little too good to be true so I wanted to test it for myself. Their nutrigenomic products support the body's natural cellular function by targeting the main biochemical effects against issues like oxidative stress, natural mitochondrial deterioration and more.
My working theory in this challenge: If NRF1 and 2 activate my DNA to produce more mitochondria and keep them healthy, my body will function more like it did when it was younger and I'll need less supplements to continue good health.
Here's what I've done:
Oct 3, 2018 I had blood work drawn. (I will do a post challenge blood draw early March 2019)
Pre-pictures and monthly pictures are being documented to hopefully see a progression of changes.
Most of the supplements I was taking were cut out.
I included their skin care products in my regimen to test them as well.
Exercise: CrossFit has been my choice of exercise since Feb. 2018. I took a 2 month break due to schedule issues and started again mid December.
I did not change my diet until early January.
If I felt like I was getting sick or in general over taxed, I took additional NRF 2 activators that day which seemed to take care of whatever was overwhelming my system.
I've continued receiving bodywork and acupuncture the same as I have been for the last 2 years.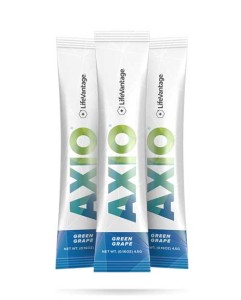 Results so far:
Consistent energy throughout the day, whereas I used to have a major drop in energy in the afternoon.
I'm sleeping better overall.
I drink one of their AXIO packets per day and do not feel the need to have a coffee, though I miss the flavor of my coffee.
Even though I took 2 mos. off from working out, I am not as sore and my recovery time after exertion is much less than ever before.
I am VERY pleased with my results so far and already know I will continue with these products after the 5 mo. challenge is done.
_____________________________________________________________________________________
LifeVantage has a product called AXIO. I use it especially when in class or anytime I need to focus. I have this available in my office for you to try next time you're in!
What is AXIO?  A whole new approach to energy! Specially formulated to give energy to your mind, not just your body. Engineered with Nrf2 ingredients, it's designed to deliver more mental clarity, focus, and concentration without the jitters or caffeine crash.  AXIO uses a proprietary blend of ingredients to wake your brain up, increase concentration, and deliver the right kind of energy, right when you need it without the added sugar, low-grade caffeine, or extreme sports packaging. It's a clean, low-calorie, low-carb, vegan formula that is BSCG approved and free of artificial colors, artificial flavors and artificial sweeteners, added sugars, GMO's and gluten.*
For more information check out my link www.8handshealing.lifevantage.com or give me a call/text. I have the products in my office for viewing and muscle testing.  I will have samples available at the open house.

*These statements have not been evaluated by the Food and drug Administration. These products are not intended to diagnose, treat, cure or prevent disease.